Free! - sing without an audition or a rehearsal!

Longwood Opera is joining the New England Gilbert and Sullivan Society
in a Last Minute Light Opera production of

The Pirates of Penzance

Sunday, June 8th
2:30 p.m.
Christ Episcopal Church
1132 Highland Avenue
Needham, MA.
Cast:
Major General Stanley: Phil Lauriat
Samuel: Ken McPherson
Frederic: Joshua Collier
The Sergeant of Police: Thaddeus Bell and
Mike Lague

Mabel: Jennifer Sgroe
Edith: Stephanie Mann
Kate: Linda Barbieri
Isabel: Evelyn Griffin
Ruth: Angela Jajko

and Katherine Engel Meifert as The Pirate King Queen

Conductor: Danica A. Buckley
Accompanist: James Hay
Join the chorus!
In a NEGASS Last Minute Light Opera, the audience is always the chorus.
Panera Bread donations!
Only on June 6, 2014!
visit Panera at 120 Highland Ave, Needham, MA
10-20% of qualifying sales will be donated to Longwood Opera
in honor of our Pirates!
Download this certificate, and present it with your purchase!
Christ Episcopal Church
1132 Highland Avenue, Needham, MA
Single admission at the door: Adults $8; Senior/Students/Children $6
Summer Season Pass: Adults $50; Senior/Students/Children $35

Concert article on Needham's Wicked Local site
Not Your Average Cause!
Every Tuesday in June (3, 10, 17 & 24)
visit Not Your Average Joe's in Needham:
109 Chapel Street Needham 781-453-9300
Download this certificate and present it to your server.
NYAJ will donate will donate 15% of your purchase (including takeout!) to Longwood Opera.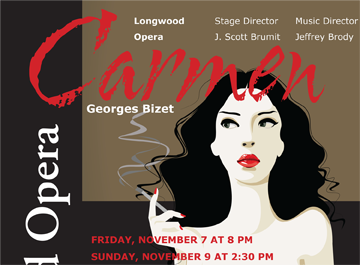 Download a flyer, and see photos of the production!
Carmen was a
fabulous success!
Read a great review on Needham's Wicked Local site!

Friday, November 7 @ 8:00pm
Sunday, November 9 @ 2:30pm
Enjoy the video!

Christ Episcopal Church
1132 Highland Ave.
Needham, MA
Music Director - Jeffrey Brody
Stage Director - Scott Brumit
Costume Designer - Charlotte Brumit
Fully staged, in English
Carmen - Emily Jaworski
Micaëla - Bethany Worrell
Mercédès - Rosie Osser
Frasquita - Evelyn Griffin

Don José - Ethan Bremner
Escamillio - Colin Ruffer
Dancaïro - Ed Batutis
Remendado - Justin Moore
Zuniga - Mikhail Zingman
Moralès - Nathan Rodriguez

Gypsy Ensemble:

Rebecca Lightcap
Sarah Orlovsky
Laura Dike
Charlotte Brumit
Vaughn Miller
Nick Gerson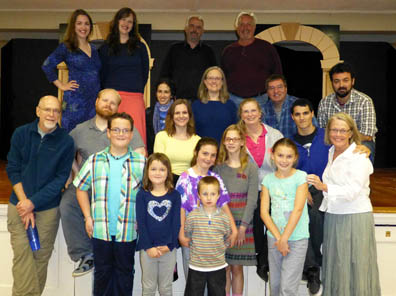 Longwood Opera's Carmen cast pauses during rehearsal.
===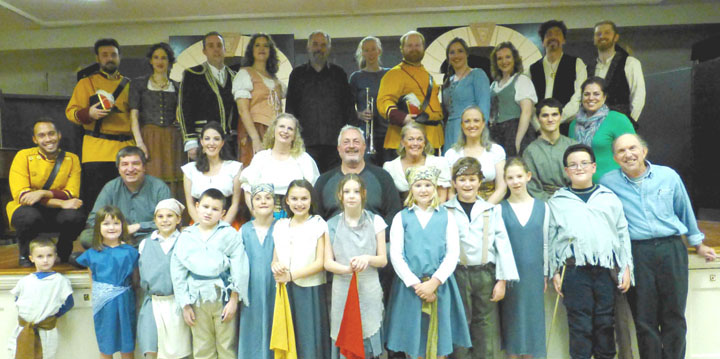 Longwood Opera's Carmen cast

Music to Cure MS

Hear some of your Longwood Opera favorites (and others)
performing opera, art songs, and chamber music
in support of
the Accelerated Cure Project for Multiple Sclerosis
(a nonprofit dedicated to curing MS by determining its causes.)

Sunday, October 26, 2014
3-5 pm

Special early-bird treat!
Vivaldi's cantata In furore iustissimae irae starting at 2:45PM!

Park Avenue Congregational Church
50 Paul Revere Rd, Arlington, MA
Tickets: $20 in advance | $25 at the door | MSers, students, and elders: $10
LOVE IS IN THE AIR!

December 31, 6-7pm
Congregational Church
1154 Great Plain Avenue
Needham
NOTE: this is NOT our usual performing venue!
Get directions

Longwood Opera is once again participating in New Years Needham,
adding a great line-up of performers to the New Years festivities!
Tickets may be purchased at the door for all performances.
| | |
| --- | --- |
| General Admission: | $23 |
| Seniors: | $18 |
| Students: | $15 |
| Children 10 and under: | $10 |
Tickets may be purchased in advance by sending a self-addressed, stamped envelope with payment for the tickets or passes desired to:
Longwood Opera
42 Hawthorn Avenue
Needham, MA 02492-3806
| | |
| --- | --- |
| If you're looking for sheet music, we recommend Sheet Music Plus. They have the world's largest selection, guaranteed low prices, and great customer service. And every time you buy from them through this link, you are donating to Longwood Opera! | |
2014 annual auditions
Longwood Opera auditions on May 17 & 19 are now closed. There are
currently no other days or times for us to listen to singers.
This year's auditions have been for our annual summer concert series and
our November 7 & 9 production of Bizet's CARMEN (costumed, staged and performed in English).
For more information call (781) 455-0960 or send e-mail to Encore@LongwoodOpera.org