(download a poster)
(see the cast)
June 3 and 4 at 8:00pm | June 5 at 2:30pm

Christ Episcopal Church
1132 Highland Avenue, Needham, MA
Jeffrey Brody, Music Director
J. Scott Brumit, Stage Director
This tribute will feature
| | | |
| --- | --- | --- |
| | The Kiddush | |
| The Berliner Requiem | | Mahagonny Songspiel |
... plus selected songs from Hollywood to Broadway:
| | | | | | |
| --- | --- | --- | --- | --- | --- |
| Mack the Knife | | | | | |
| | Lost in the Stars | | | | |
| | | September Song | | | |
| | | | Lonely House | | |
| | | | | Berlin in Licht | |
| | | | | | Je ne t'aime pas |
| ... and others | | | | | |
Singers:
Devin Dukes
Wendy Weiler
Evan Denmark
Darryl Williams
Benjamin Cole
J. Scott Brumit
15th Annual Summer Concert Series
Tuesdays at 7:30 pm Christ Episcopal Church
1132 Highland Avenue, Needham, MA
July 5:
Opera Arias
July 26:
Rising Stars
August 16:
Opera Scenes
July 12:
Broadway Melodies
August 2:
Opera meets Broadway:
an evening of cross- over pieces
August 23:
Broadway Melodies
July 19:

Opera Scenes
August 9:

Gilbert & Sullivan
August 30:

Opera Arias
Special FREE gathering, August 28, from 2:00-5:00 PM:

The New England Gilbert and Sullivan Society
will hold their August meeting at Longwood's favorite summer performance space:
Christ Episcopal Church
1132 Highland Avenue, Needham, MA

We'll enjoy a pot-luck dinner and a complete sing-through of The Yeomen of the Guard (conducted by Longwood/NEGASS double-threat Thomas Dawkins), with an unrehearsed cast (tba) drawn from NEGASS members and Longwood performers. All are welcome to join in the chorus.

Visit The Trumpet Bray web page for updates.
Ticket prices for our 15th Annual Summer Concert Series
Summer Season Passes:

Adults - $45.00

Seniors, Students and Children 10 and under - $30.00
Wednesdays at 7 PM at the Regent Theater in Arlington


Longwood Opera is adding something new this warm weather season:
The Longwood Opera Summer Tour
We'll only be stopping at the Regent Theatre in Arlington on Wednesday nights.


Enjoy opera twice each week,
as programs will be different from the Tuesday evening Needham performances

-
- or just plan to catch Longwood Opera "on the road."


Dates and Performance Schedule.


It's More Opera for All !
Click Here

and enter code

TMOPBWY

into the message box of the online order form

781-646-4849

and mention code

TMOPBWY


Bring a printout of this offer to

The Regent Theatre box office at 7 Medford St., Arlington, MA 02474

Box Office Hours: Mon-Sat 12 Noon to 5pm

It's curtain up on Longwood Opera's 19th consecutive fall season with a presentation of a special series of concerts at Arlington's
Regent Theatre.


Opera Meets Broadway--one of Longwood's most popular shows--is a program of musical favorites from opera and the Broadway stage featuring solo and ensemble pieces from Madame Butterfly, La Boheme, West Side Story, Carmen, Les Miz, Candide, Miss Saigon, Romeo & Juliette, and more...

Produced and created by J. Scott Brumit
Music direction by Jeffrey Brody

Featuring:

Stephanie Mann (soprano)

Philippe Pierce
(tenor)

Emily Marvosh
(mezzo soprano)

Thomas Weber
(baritone and master of ceremonies)


Live at the Regent Theatre For Only 3 Performances

Thursday, October 6 at 3 pm
Friday, October 7 at 7 pm
Sunday, October 9 at 3 pm

TM Insiders Save $5 per Ticket!
Regular Ticket Price:
$15 General Admission
$12 Seniors, Students and Children 10 and under



*** Also coming Saturday, November 5 at 8pm... La Traviata by Giuseppe Verdi--fully costumed and staged and in English, with piano accompaniment. OPERA FOR ALL!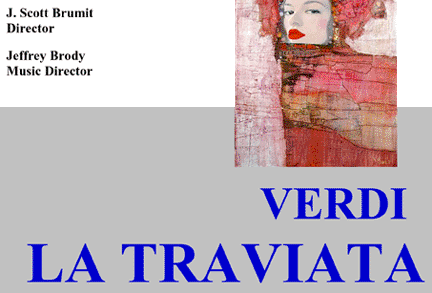 download a poster

Fully costumed and staged and in English, with piano accompaniment


---
Cast:
Violetta...

Sol Kim
Sangeetha Appavoo

Alfredo...

Joshua Breitzer
Philippe Pierce

Germont...

James Lambert
Thomas Weber

Flora...

Hayley Thomson-King

Marquis...

Cole Grissom

Annina...

Sara Smith

Baron...

Gabriel Alfieri

Gaston...

Neal Ferreira

Dr. Grenvil...

Miles Rind
What our audience is telling us:
"I've attended your operas for years. This La Traviata was probably your best performance. It was magnificent! And I thought you have to know it.
The voices were beautiful and they were acting also. Visually it was a feast for the eye.
So thank you so much. This could be your very, very best. We enjoyed it immensely."
---
"Thanks for another great production! During the intermission my friends and I had a long chat about down-town opera prices, restaurant prices, parking-lot prices and parking hassles, as well as the undependability of "professional" performing and directorial talent - and agreed that Longwood Opera in the 'burbs is the way to enjoy a night at the opera!"

Spring:
Longwood's Tribute to Kurt Weill


Summer:
15th Annual
Concert Series and Longwood Opera Summer Tour


Early Autumn:
Opera Meets Broadway
at Arlington's
Regent Theater

- See our Previous Productions page
Sing to Cure MS:
Halloween, MS and Other Scary Things
The 3rd Annual Accelerated Cure Project Halloween Concert
Sunday, October 23, 2005, 3-5pm
Pleasant Street Congregational Church
75 Pleasant Street, Arlington, MA
Directions
Enter a raffle at the concert to win tickets to Longwood's La Traviata!
When life hands you a lemon, you make lemonade, right? How about if life hands you a big scary pumpkin of an incurable, unpredictable, crippling illness? We make musical jack-o-lanterns!
Longwood regulars Devin Dukes, Gary Theis, MaryAnn Mootos, and others are joining the fight against MS by offering their talents in a concert of arias, art songs and operatic ensembles to raise funds for the Accelerated Cure Project.
Come dressed in Halloween costumes or evening wear, enjoy favorite classical Halloween-theme music, and support a worthy cause!
Tickets are: $20 in advance, $25 at the door, $5 for students and seniors
To order in advance, contact Ruth at 617 734-7820 or SingtoCureMStix@hotmail.com
-- or send check, payable to Accelerated Cure Project, to:
Accelerated Cure Project
300 Fifth Avenue
Waltham, MA 02451
(Please include your name, and specify that your check is for admission to the concert)
-- or visit acceleratedcure.org/about/contribute.php and specify this concert as the reason for your donation
For additional details visit the Accelerated Cure web site
or
www.leedscarroll.com/boston-cure/2005/
Ticket prices for the 2005-2006 season
Tickets may be purchased at the door for all performances.

New! Purchase tickets on line!
On-line tickets will become available one month before performances.
Your on-line ticket purchase made can be up to 24 hours before the performance.
Please note that all sales are final and tickets are non refundable.

Tickets may also be purchased in advance by sending a self-addressed, stamped envelope with payment for the tickets or passes desired to:
Longwood Opera
42 Hawthorne Avenue
Needham, MA 02492-3806
On-line donations to Longwood Opera are also available through RepeatSeat. Visit their Longwood Donations page, or read our own Helping Longwood page for more information.
NEW!
Try out a novel and fun way to help Longwood:
Make-up parties!
| | |
| --- | --- |
| If you're looking for sheet music, we recommend Sheet Music Plus. They have the world's largest selection, guaranteed low prices, and great customer service. And every time you buy from them through this link, you are donating to Longwood Opera! | |
2005 annual auditions (for Boston-based singers only)
were held May 7 and 8, 2005

Please call (781) 455-0960 for further details.
Singers: Visit Longwood Opera's new web forum!
Longwood Opera exists to showcase talent nurtured in New England, in conservatories and privately. We do not consider resumes or applications from singers based outside this area.